Ok, well, i'll start with this : Don't use a leecher mod buddy ! your eMule 'exelerator' shit doesn't sound right at all, you shouldn't be using a leecher mod or whatever, use the official client or a good mod (which I strongly suggest over the official client). Why, cause you need to give to the community to keep it alive, so if you use a leecher mod to take and go everything you want, those files will be aand stay dead for a long time if not forever, and peoples who's using 'good mod' of eMule will be banning you, cause there's anti-leecher protection in every mod of eMule, except of course those fucking leecher mod... (btw, i'm not saying you're using a leecher mod, just that I never heard of this 'exelerator' mod man, it just by the name, doesn't sound good at all honestly, so don't take it wrong).
Just to name a few good mod, choose the one your prefer, they are all good :
-Xtreme :
http://www.xtreme-mod.net/
-ScarAngel :
http://scarangel.sourceforge.net/
-StulleMule :
http://stulle.emule-web.de/
-MorphXT :
http://emulemorph.sourceforge.net/
If you want to see other mod, there you go :
http://www.emule-mods.de/?mods=start
-The official eMule Client (don't download a eMule 0.49c version elsewhere than on the official website, or it will certainly contain malware) :
http://www.emule-project.net/home/perl/general.cgi?l=1
I suggest you the Xtreme mod, since almost everybody is using it, but me personally, i'm suing StulleMule, cause it have great feature when it's time to spread a file a little faster, and I love the security option a lot better than with Xtreme, but Xtreme is more 'user-friendly', so if you prefer...
Ok, let's get started...
1-) First of all, begin to install the client, whatever mod you choosed, and after that, start it, and go to the Servers tab. You will delete ALL servers in the Servers tab, they are all (well, 99.9%) fake or false servers putted there by anti-p2p compagnies, so don't take any chances if security and anonymous is your concerne. And honestly, since some years ago, we learned that eMule servers are not really safe anymore (it was never safe anyway, but...) so I personally, you can do what you want, but suggest you to stop using them, you don't need them, when you'll have a secure KAD contact list (as mentionned in point 2) you won't need any servers anymore. You don't need to be connected to any servers in order to be able to download/upload anything in eMule, only need to be at least connected to the KAD Network.
But, since you are free to do whatever you want, here's where to find information on how to add to eMule a good/proper (maybe secure ?) Servers list :
http://www.emule-security.net/e107_plug ... ?0.cat.6.5
2-) Second, you will update your KAD contacts list. For doing this, click on the KAD tab, you will copy this address without the quote (
http://upd.emule-security.net/nodes.dat
) and past it on the right side of the screen where you can read "Nodes.dat from URL", and hit the button 'Bootstrap'. Your KAD contacts list will now load, let it go, and move on to the configuration on eMule.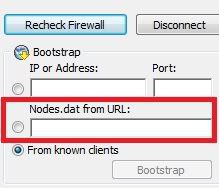 3-) Now, the fun part... you need to open your TCP and UDP port that eMule will use in your router if you have one, and of course let your firewall accept connection for eMule !
You don't know the TCP & UDP ports your eMule client is using to transfert, go to Option, Connection. You'll see them, just forward them in your router. If you don't know how to do so, well, first take a look at this site (
http://portforward.com/
) and if you still can't figure it out, well... nevermind and good luck !

It's important to have both your ports eMule's using open, to have a HighID, so that you can receive incoming connection from both HighID and LowID, cause if you're ports are not opened, you'll have a LowID and two peoples with a LowID can't really connect to themself, so you'll lose a lot of contact, so better opening your ports that eMule use.
If you're ports are really open, you'll see it by having a nice green little arrow on the planet icon on the right bottom corner of the main Windows, and in the 'My Info' section of the Servers tab, it will be written 'HighID'.
4-) ok, so now let's start with the configuration. You need to do everything here in order to be secure (at least a little more than if you don't do that) and to be able to download eD2K links correctly via a link on a website. The rest of the configuration is at your discration.
Go to Options, and then :
Files
:
"Watch clipboard for eD2K file links"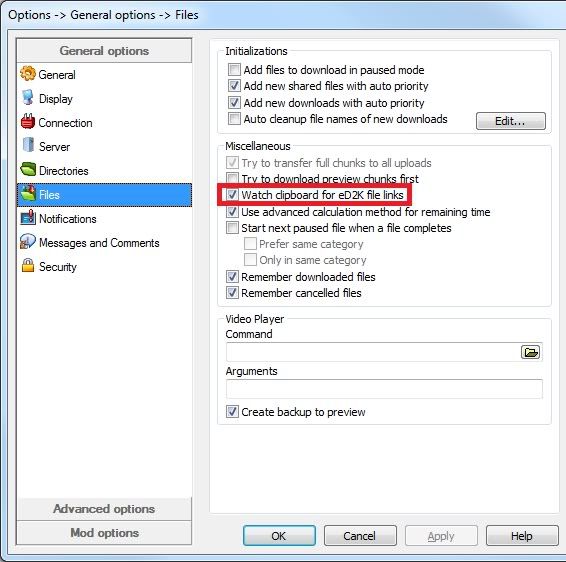 Security
:
"Filter servers too"
(doesn't mean because you're not using any servers that you don't need to hit this case, in fact, you have to, cause some time eMule connect and try to update the Servers list by himself if you leave that fonction at ON in the option, so Filter Severs !)
"Nobody"
"Enable Protocol Obfuscation"
(the Protocol Obfuscation is a way to prevent your ISP from throtteling you, limiting P2P, if they do so, but even if they don't, you have to use it anyway, cause it's more secure and all peoples use it, and with some mod, it will only accept your connection if you're using that feature, so Enable it, don't bother)
"Use secure Identification"
(some mod will refuse your connection if you don't use this feature, so don't bother, use it)
"Enable spam filter for seach results"
(it will prevent you a little against some fake search result, but for a higher protection (will never be 100%) against fake files in search result, you'll need the fakes.dat file in your setting)
Extended
:
"Autotake eD2K links only during runtime"
"CryptTCPPaddingLength : 254"
(enter the number 254 here, it is the highes possible and it will protect you better than the default setting. It's the Protocol Obfuscation security shit, don't know how to say it, but the higher it is, the more you're safe)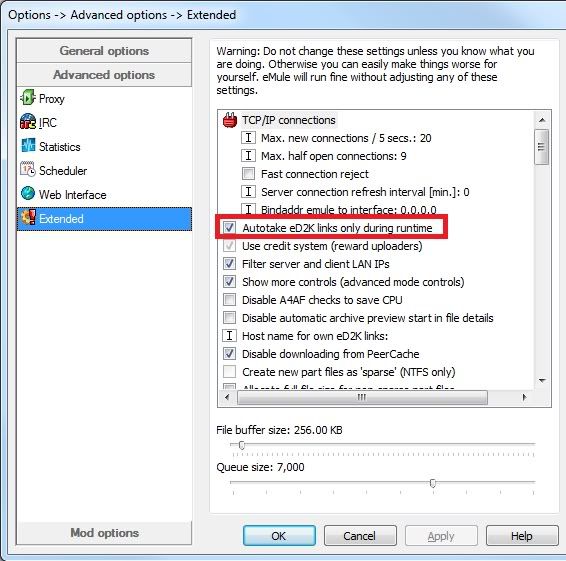 5-) Now, a part that is very important to be secure, using the ipfilter for eMule.
There is a file (.dat) that contain many anti-p2p, fake id, leecher, etc.. IP that need to be blocked in eMule in order to be a little more secure (we will never be secure at 100% btw) and which is keep updated at almost every 2-3 months, by some great guys over eMule-Security.net (
http://emule-security.net/news.php
).
So now, depending on which mod you choosed and installed, here's how to load and keep updated your ipfilter...
With StulleMule, ScarAngel or MorphXT :
Go to Option, Mod Option, and depending on the mod, in *** Update, and just hit the three case, ipfilter, fakes and ip-to-country on startup. The URL should already be there, but in case it is missing for some mysterious reasons, here they are :
Fakes :
http://emulepawcio.sourceforge.net/fakes.zip
ipfilter :
http://upd.emule-security.net/ipfilter.zip
ip-to-country :
http://ip-to-country.webhosting.info/do ... ry.csv.zip
If you're using the official eMule client, here's how to....
Go to Option, in Security, and past this address without the quote (
http://upd.emule-security.net/ipfilter.zip
) on the line "Update from URL" and hit the 'Load' button.
Well, it's done, now the rest of the setting are at your discretion... Now you can add files in eMule via the eD2K links found on web site too.
Btw, eMule is a little slow to connect and download, in order to see some source (if any), give him some time (not an hour, but a couple of minutes). If after 1-2 hours, there's still no source, and the transfert bar is all red, it mean there's nobody sharing 'right now', but it doesn't mean it's completely dead, maybe someone will appear soon or later, and the transfert bar will turn blue. But i'll take your words for it, and i'll re-share this show tonight, so let me know tomorrow if you see me (at least) as a full source. If you don't see me, it might be because you're not using a good mod, you have a LowID, don't use a Secure Identification or because you can't connect to me for an another reasons. If you follow my guide, you'll be able to connect to me, and you'll have it.
Enjoy, and welcome to the community, hope you'll share after !