Title: Zombiegore Size: 698 & 699mb
Release date: October 10th 2003 Runtime: 00.48.04 & 00:50:34
DVD: 29/7/2004 Aspect Ratio: 4:3 full frame
Theater: xx/xx/xx Resolution: 512x288
Codec(s):divx 5 IMDB:
http://imdb.com/title/tt0436985/
Genre: underground splatter Grimripper:kinky queen
Audio: VBR Subs:nope
Video: 1897kb/s FPS: 25.000
Language : English and some German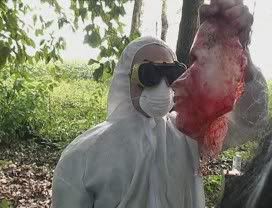 You are not going to believe this,
http://imdb.com/title/tt0436985/
It's a Dutch Underground splattermovie wich makes VIOLENT SHIT look like an epic! I kid you not!!
Ultra rare it is a rip from the dvd of the pic i put up wich is limited to only 20 copies!
This little self-financed piece is actually very fun to watch. Okay, there are lots of things to be
forgiven. Stupid plot, bad acting and goofy effects. But so what? It can be seen that the filmmakers had a good time making this movie,and the certain feel of enthusiasm can be catched.
Traces from zombie-films like Zombi 3 by Fulci/Mattei and lots of b-grade action movies can be found.
Making this one only entertaining. Also the appearance of a Death Metal -band Maggots gives this piece
a few more points. I think this is much better film in its genre than for example, Zombie Chronicles
by Brad Sykes. Give this one a chance!
ed2k:
Zombiegore.2003.dvdrip.divx.GrimRippers.txt
[13.1 Kb] [
Stats
]
ed2k:
Zombiegore.2003.dvdrip.divx-GrimRippers.cd1.avi
[698.83 Mb] [
Stats
]
ed2k:
Zombiegore.2003.dvdrip.divx-GrimRippers.cd2.avi
[699.02 Mb] [
Stats
]
[ Add all 3 links to your ed2k client ]